WEDDINGS
Weddings at the Fairways
Thank you for considering the Fairways Hotel as the venue for your wedding. We believe we have an ideal venue for you, especially if you are looking for a wedding by the sea.
Our coastal location with its extensive views across the dramatic Severn Estuary, is perfect for both small intimate weddings and large gatherings for weddings by the sea. Our stunning orangery can be decorated and laid out in a variety of configurations and our ballroom can be included as part of your festivities.
Situated on Porthcawl seafront in South Wales with panoramic views of the Bristol Channel and enjoying romantic sunsets, the Fairways Hotel makes the perfect setting for the perfect day. Its the ideal location for a wedding venue in South Wales.
When recently refurbished and with the addition of our new orangery, the management considered all aspects of the hotels operation, with weddings high on the list. The end product is a choice of dining rooms and flexibility of layouts. With the introduction of hotel hire this has allows exclusive access to the hotel and the option to invite an extra guests for the evening.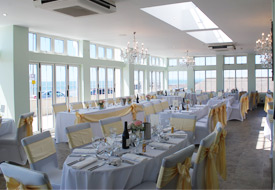 Our aim is to ensure that your day with us proves to be a memorable one. Our friendly staff have years of experience, which will guarantee that the smallest detail is not overlooked. The installation of stylish lighting, private bar and air conditioning has given many couples the security that their special day will be a success.
To help you prepare for one of the most important days of your lives we have compiled an information pack which is available upon request and which we hope will be helpful and informative. To view the facilities at the Fairways Hotel and to see for yourself our seaside location, please telephone or visit our Wedding Co-ordinator, who will be happy to arrange an appointment to discuss your individual plans
Call our wedding co-ordinator on 01656 782085 for more details about our Wedding Packages